Last month, we hosted our second Jana Insights webinar, "Latin America: The Rising Hub of Mobile Growth & Innovation." In this interactive webinar, host Christina Zhou presented a close look at smartphone trends, user behavior, and advertising trends in Latin America—the fastest growing smartphone market in the world. During the session, Christina focused on three countries—Brazil, Mexico, and Argentina. Missed the webinar? View the recording now.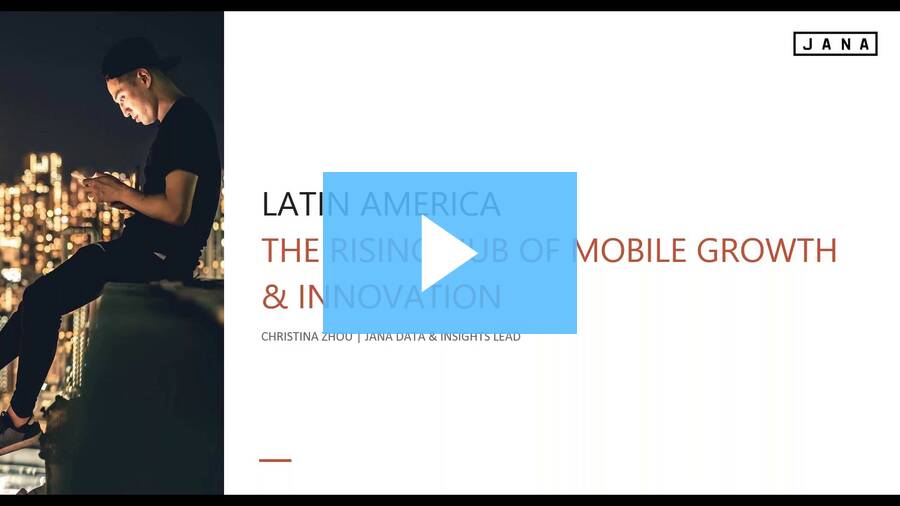 Here are some key takeaways from the webinar focused on Brazil:
Brazil's economy is on the upswing
For the past 2 years, Brazil has experienced its deepest recession in the country's history. Yet, signs of recovery are starting to show. The country's Finance Minister and industry analysts predict that the economy will expand again in 2017.

Based on research and recent projections, it's clear that Brazil will continue to be one of the most influential emerging markets in the world. Brazil is currently the largest retail market in Latin America, and despite the economic downturn, eCommerce sales will continue to increase by 12.5% annually.

The size and growth of Brazil's eCommerce market is driven by high credit card penetration among consumers. At 50%, Brazil's credit card penetration rate is the highest among the emerging markets. Alternative payment methods, like Boleto Bancario, are also popular.

Brazil propels advertising spend
Brazil drives 50% of all digital advertising spend across Latin America. By 2019, digital ad spend in Brazil will reach $5.8B.

Advertisers currently spend the majority of their ad budgets on television, yet users' TV screen time is less than screen time on mobile.

Brazil has the highest video ad completion rates in the world. Brazil also has the highest user penetration for online video views in LATAM—87% of internet users there view online video.
Brazilian users are social
By 2019, 78M mobile phone users in Brazil will be on a smartphone. 50% of these smartphone users will be on 4G by 2020. Currently, 20% of smartphone users in Brazil are on 4G.

When we look at the top apps by average number of daily active users (DAU), we see that Brazilian users are highly social, actively using messaging apps like WhatsApp and social media apps like Facebook and Instagram every day. Overall, Brazilians are responsible for 10% of all time spent on social media globally.